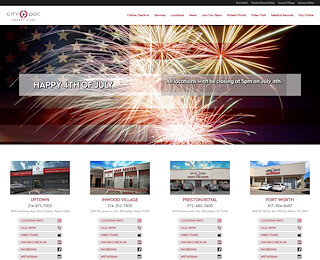 Why overpay for an Uptown doctor when City Doc is conveniently located at 2909 McKinney Ave in Dallas, offering exceptional urgent care at affordable prices? We can treat practically any condition or symptom your general physician can, without the long wait lines or high costs of medical care.
For Emergencies, Visit the ER – For Everything Else, There's City Doc
Our staff stands ready to treat your family's urgent care medical needs to accelerate care time and reduce the cost of being seen by a doctor. We handle a wide range of conditions; in fact, we like to tell our patients that for life-threatening conditions, they can be best served in the Emergency room. For all other medical care, we are here, ready to help.
Open Long Hours
City Doc Urgent Care is open:
Monday – Saturday 8 am – 8 pm
Sunday 10 am – 5 pm
If you or a family member needs medical care on the weekend, City Doc can provide treatment- and if the condition falls under our 'appropriate' list of conditions that apply, you can be seen by a City Doc specialist through our convenient Video Visit from the comfort of your home. Simply click 'Video Visit' to learn more about this service.
What Our Uptown Doctor Can Treat
Lacerations, Cuts, and Scrapes We can provide x-rays tetanus immunizations, and stitches, antibiotics, pain medication, and removal of sutures. If our staff determines your injuries require emergency care, we'll refer you to a local ER for evaluation and proper treatment.
Cold, Flu, Bronchitis, Pneumonia, Ear Infection, and Sinus Infection Certain conditions require antibiotics for treatment while others do not. The typical cold will usually resolve on its own in 5-7 days; however, a sinus infection, ear infection, flu, strep, or other conditions need antibiotics to speed healing.
MRSA, Abscesses, Insect Bites, and Skin Infections When in doubt about a skin condition, it's always best to have it looked at by your Uptown doctor. Our experienced staff at City Doc can evaluate the situation and determine whether further medical treatment is required. We treat abscesses, spider and insect bites, Staph, Strep, MRSA, and some skin conditions.
Broken Bones If you've ever been injured and felt more concerned as to the cost and logistics of being seen in an ER than you were about getting treatment, you're not alone. Many people opt to forego treatment rather than sit in an ER waiting room for hours and pay the high costs of emergency medical care.
City Doc can provide x-ray imaging without the long wait time or the high cost. We'll evaluate your situation to determine whether x-rays are necessary, provide them whenever necessary, and treat your injuries with a splint, sling, crutches or specialty orthopedic. If you need pain medication, we can prescribe the right type for your injury. For severe injuries, we can call ahead to the ER to let them know you're on your way.
Uptown Dallas:
2909 McKinney Ave, Ste. B, Dallas, TX 75204
Preston/Royal:
10759 Preston Rd, Ste. 200, Dallas, TX 75230
Inwood Village:
5301 W Lovers Ln, Ste. 109, Dallas, TX 75209
Uptown Doctor
CityDoc Urgent Care Fort Worth
8179848687
3020 W 7th St 210
Fort Worth
TX
76107
View Larger Map