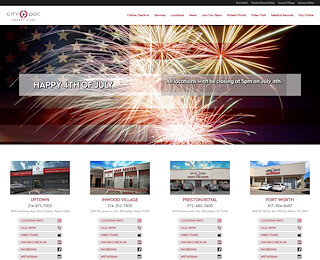 Does the idea of visiting with your doctor over a video conference seem more desirable and less stressful than going to the doctor in person? If so, you are going to love the telemedicine program at City Doc Urgent Care! With four convenient locations in the Dallas/Fort Worth Metroplex, you can have a video conference with a doctor closest to you rather than having to deal with traffic and sit in a crowded waiting room. Our locations include Uptown, Inwood Village, Preston/Royal, and Fort Worth, but you can schedule a video visit with a doctor online.
Schedule a video visit with a doctor now by clicking here.
Get directions to a City Doc clinic near you by clicking here.
What are the Benefits of Doctor Video Visits in Dallas?
You might be surprised to learn that video conferences with your doctor are much easier and much less stressful than driving or taking public transportation to a local clinic.
Benefit #1: Bypass the Traffic
The traffic in DFW is bad enough! When you factor in all of the rude drivers on the road and road rage, which seem synonymous with DFW driving, it can ruin even your best day! By scheduling a video visit with our doctor in Dallas/Fort Worth, you don't have to drive anywhere. You can visit your doctor in your home office or even in your living room on your cell phone.
Benefit #2: Don't Take Time Off Work
Online doctors in North TX are making it where people don't have to take time off work to visit a doctor. Are you taking advantage of telemedicine in Dallas? If not, you might be pleased to find out that it is extremely convenient and effective. Give it a try. Schedule your appointment for a doctor video visit in Dallas/Fort Worth at City Doc.
Benefit #3: Avoid Contagion
We go to the doctor's office when we need treatment, not to take home a new virus. Yet, sadly, this happens more often than we would like to admit. This is because there are other sick people at the doctor's office. That's where they go to get treatment too. If someone is sick with a cold, for example, you might wind up catching a cold too. Stay at home, avoid the stress of driving, and avoid getting sick by scheduling your video conference with a doctor at City Doctor.
Benefit #4: Maintain Better Health
It's much easier and much cheaper to see your doctor when you need to online. It's not always feasible to go to your doctor's office, even when you need to. But with online doctors consultations, you can check in as often as you need to.
Benefit #5: Receive Faster and Better in-Office Healthcare
By remaining in close contact with your doctor through doctor video visits in Dallas, your doctor will already be up-to-speed with what's going on with your health in the event that you do need to visit our clinic. Then, your doctor will be able to see you and treat you faster.
Uptown Dallas: 2909 McKinney Ave, Ste. B, Dallas, TX 75204 Preston/Royal: 10759 Preston Rd, Ste. 200, Dallas, TX 75230 Inwood Village: 5301 W Lovers Ln, Ste. 109, Dallas, TX 75209
Doctor Video Visit Dallas
CityDoc Urgent Care Fort Worth
8179848687
3020 W 7th St 210
Fort Worth
TX
76107
View Larger Map