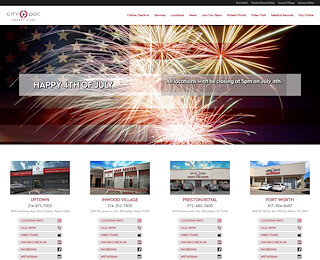 if your body is suffering dehydration, you can not function in a normal manner, as your body is made up of between 50% to 65% water, and these fluids need to be continually maintained for an over all feeling of well being. If you are not consistently quenching your body's thirst, you may feel run down, fatigued and even listless. Most of us don't realize that the healthy foods that we eat and the nutritious drinks we consume, are only partially absorbed. City Doc Urgent Care in Dallas offers four distinctive types of hydration therapy in Fort Worth, and these include hangover relief, energy boost, sports recovery and illness recovery.
At City Doc Urgent Care, we are a full service walk in clinic that accept patients whether they have a comprehensive health insurance plan, or not. We strive in keeping our medical services at prices you can afford, even if you have to pay for them out of your own pocket. If you are looking for hydration therapy in Fort Worth, we have many of these types of services that are available from $50.00 up to $100.00. This fee will be added on to your initial fee of only $100.00, and will connect you with one of our hydration therapy experts.
Vitamins and minerals are important and necessary for our cells to function properly, and by using hydration therapy, large doses of vitamins and minerals are safely delivered into your bloodstream that would not be tolerated if taken orally. Usually, your body is dehydrated and malnourished because of poor eating habits, stress and a lack of exercise. Even a long night of drinking alcohol can do significant damage to your body when you don't replenish the fluids that you have lost. Consuming alcoholic beverages does not refresh the body, but instead, it removes the vital fluids that your body craves.
Hydration therapy bypasses the digestive system and allows for total absorption of beneficial fluids, vitamins and minerals into the bloodstream, which is extremely helpful to those who experience digestive disorders. Some benefits of this type of therapy that you may experience include hydration, less stress and anxiety, increased energy levels, improved sleep and immunity and muscle recovery. If you have not been feeling well, or are recovering from an ailment, this is the type of therapy that can get you back on your feet, and feeling better much more quickly and efficiently.
If you would like some additional information regarding all of the benefits that you can take advantage of when you discover hydration therapy in Fort Worth, City Doc Urgent Care in Dallas would like to invite you to visit our web site. At citydoc.net, you can schedule an appointment to visit one of our hydration therapy experts. You can also find out more regarding all of the medical services that we happily provide for you. If you have any questions or concerns, you can leave your contact information, for a fast response. You can also call us at 817.984.8687 and speak with one of our friendly and professional medical staff members.
Uptown Dallas:
2909 McKinney Ave, Ste. B, Dallas, TX 75204
Preston/Royal:
10759 Preston Rd, Ste. 200, Dallas, TX 75230
Inwood Village:
5301 W Lovers Ln, Ste. 109, Dallas, TX 75209
urgent care Dallas
CityDoc Urgent Care Fort Worth
8179848687
3020 W 7th St 210
Fort Worth
TX
76107
View Larger Map