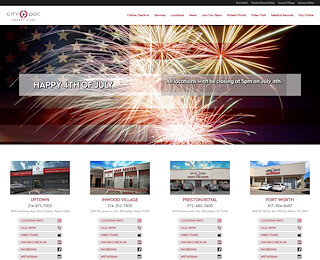 City Doc Urgent Care is a top-rated center for urgent care in Highland Park with an experienced clinical team, an award-winning patient portal, and budget-friendly prices. With an online check-in option and a 'pay online' feature, we reduce the amount of time you spend at the hospital during your health visit.
Services that we offer at our urgent care center
By treating over 90% of the diagnosis seen in the ER, we bridge the gap between your primary care provider and emergency room but with shorter wait times and at a much lower cost. Here are some of the medical services available at our urgent care clinic in Highland Park:
COVID-19 testing
Cold, flu, bronchitis, pneumonia, sinus infections, and ear infections
Broken bones, sprains, and strains, back and neck pain, joint injuries
Lacerations, cuts, scrapes, and stitches
Travel medicine, Occupational medicine, and vaccines
Chest pain, abdominal pain, and back pain
Sleep disorders, flu shots, clinical trials, smoking cessation, and urgent care.
We also offer Zika virus testing, hydration therapy, allergy testing, and sports and camp physicals at our Highland Park urgent care center. As the best clinic for urgent care treatment in Highland Park, we are an in-network preferred provider for most insurance plans.
Tips to get the most out of our urgent care
Urgent care centers are the best places to rush to in case of minor medical emergencies and other medical services such as vaccinations, flu shots, lab works, preventive care, etc. Here are a few things to know about these highly convenient and widely accessible centers before you visit a walk-in clinic in Highland Park, TX:
Most urgent care facilities offer an online check-in option. Make sure to check in online ahead of your arrival, to shorten your waiting time.
Choose a facility that accepts your health insurance plan and specializes in the medical field that interests you.
Check the urgent care center's operating hours and location beforehand and make sure to carry with you all the necessary medical documentation to receive the best possible care.
Urgent care centers offer quicker service than an ER and your doctor's office. However, remember that for life-threatening emergencies such as having a heart attack, uncontrolled bleeding, no pulse, or unconsciousness, you need to rush to an ER.
Benefits of urgent care
Urgent care centers provide the best of both worlds by offering the services of a primary care provider and an emergency room. Here are some of the benefits of going to an urgent care center:
Urgent care centers operate for longer hours than your doctor's office. With urgent care, you do not have to take time off from work to meet with your doctor as these facilities have flexible evening and weekend hours.
Urgent care will help you save costs as it is much cheaper than going to emergency rooms or your primary doctor.
You don't have to make an appointment to see a doctor at an urgent care center as they accept walk-ins.
Your search for the best urgent care near me ends here. Contact City Doc Urgent Care today at 214-871-7000 to schedule an appointment. As the #1 urgent care in Highland Park, we offer unsurpassed medical care at affordable prices and ensure the best patient outcomes.
Urgent Care Highland Park
CityDoc Urgent Care Fort Worth
8179848687
3020 W 7th St 210
Fort Worth
TX
76107
View Larger Map