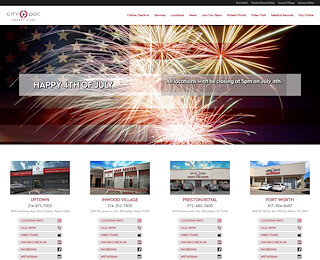 Due to the COVID-19 stay-at-home advisory, Texas residents are advised to stay in their homes, with the exception of meeting essential needs. If someone in your house is sick, City Doc offers a convenient urgent care online service that eliminates worry over having to drive to a doctor's office. You can speak face-to-face with an online doctor in North Texas who can diagnose or verify your medical condition, answer questions about medications, and prescribe meds for you. During exceptional times like these, you'll find many reasons to choose City Doc for telemedicine visits.
Top 5 Reasons to Request a Video Visit With Our Medical Staff:
1. Doctors' offices are filled with sick people. If your immune system is low, you don't have to risk being exposed to viruses, colds, or the flu when you opt for telehealth in Dallas through City Doc Urgent Care.
2. There's no place like home when you're not feeling well. You can stay comfortable and warm in pajamas or loose-fitting clothing without having to change into something more suitable for going outdoors.
3. Depending on your symptoms, you may not be able to drive yourself to the doctor. Dallas internet doctor visits are ideal for patients who are feeling dizzy, are running a fever, or simply don't feel well enough to drive. Our person-to-person video visits are exceptionally convenient for parents and seniors, as well.
4. You'll save money using City Doc's telemedicine in Dallas/Fort Worth. In many cases, telemedicine visits are completely covered during the COVID-19 situation. Compare our affordable video visit cost with a single doctor's office visit and you'll see the value of choosing our online portal when you or someone in your family is not feeling well.
5. Telehealth in Dallas is the fastest way to see a doctor. You may not be able to schedule an office visit with your primary care doctor the same day you call, but you can request an immediate video visit with our medical staff at City Doc Urgent Care. Simply click the Request Video Visit Appointment button to get started. You'll find simple-to-follow instructions to receive a call-back to arrange your online visit.
Take Advantage of Telehealth at City Doc Urgent Care
While not all medical conditions qualify for telehealth in Dallas, there are many conditions and symptoms that do; you'll find a partial list of conditions that may be appropriate for a telemedicine visit when you click the 'Video Visit' link on our website's homepage. Due to the COVID-19 issue, our list of qualifying conditions has been expanded until the situation is under control. If your symptoms are not life-threatening, you can request a video visit or call City Doc Urgent Care for more information.
You don't have to wait for an accurate diagnosis, advice from our medical team, or prescription medicines when you need to see a doctor right away. Use our quick & convenient online portal to get connected with our medical team when it's convenient for you.
Uptown Dallas: 
2909 McKinney Ave, Ste. B, Dallas, TX 75204
Preston/Royal: 
10759 Preston Rd, Ste. 200, Dallas, TX 75230
Inwood Village: 
5301 W Lovers Ln, Ste. 109, Dallas, TX 75209
telehealth Dallas
CityDoc Urgent Care Fort Worth
8179848687
3020 W 7th St 210
Fort Worth
TX
76107
View Larger Map